Swim-A-Thon
This year's swim-a-thon will take place on Wednesday July 9th during both morning & evening practice. As per the parent contract, EACH swimmer is expected to raise a minimum of $25. Money is due to Paige Adza, Joanna Houghtelling, or Lisa Johnson no later than Saturday July 19th. (Swim-a-Thon)
Pasta Push/Swim-A-Thon Raffle
Thursday July 24th 6 p.m. Each family brings a pasta dish for 12 AND
Last names beginning with A to M: salad for 12
Last names beginning with N to Z: dessert for 12
Team will supply plates, napkins, utensil, & coffee.
NO SWIMMING
Happy 4th of July!


No swim practice July 3rd & 4th. No swim meet July 5th.
Post Champs Dinner
At the club 5 p.m. Bring your own dinner. (The club will not be open until 5 p.m.)
Spirit Day
Friday July 25th Time: TBA. Poster making, nail painting, hair dying (with parent permission), shave down (with parent permission), PLUS new activities! More information to follow.
No evening swim practice Tuesday July 15th.
Club Memberships Contact Lisa Johnson @ 783-1305
Snack Bar Donations
The swim team snack bar is in need of donations for our remaining meets. Contacts Darlene Gantz @ dlagantz@comcast.net or 510-823-3921.
Swim-A-Thon raffle prizes are Needed
If you can donate please contact Paige Adza, Cindy Civiello, or Joanna Houghtelling. (Swim-a-Thon)
Pool Rental Contact Norma Guzman @ 782-9037
If your swimmer is not attending champs please notify the coaches ASAP.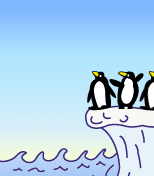 EBSL Championships
Saturday July 26th at Chabot College, 6:30 a.m. 'till they're done. Parking is $2 per vehicle.
Penguin Potluck & Sleepover
Saturday, July 12th. Permission slips are due to the coaches no later than July 9th. (Sleepover)
Chabot College Practice
Friday, July 25th. Time TBA. Parking is $2 per vehicle. All swimmers going to champs MUST attend this practice. PARENTS - Due to construction, this is a good time to tour Chabot and see the area that the team has been assigned.