Home | Meets | Practice | News | Events | Meet Results & Top Times | Records | Pictures
Coaches Corner | Team Roster | "Fishes" List | Bulletin Board | Parent Agreement | "Champ 100" Policy | Swim-a-Thon | Make a Donation
Southgate Board | 2008 Signup Information | Team Handbook | Our Sponsors | Downloads | 2008 Awards | Links | Contact | EBSL

---
~ SOUTHGATE TEAM EVENTS ~
ACTIVITIES CALENDAR 2008
Download/Printout This Schedule

EVENT

DATE

TIME

Saturday, March 15
Saturday, April 19

10:00 AM - Noon
Noon - 2:00 PM

Monday, April 7

Practice Meet (time trials)
Hello BBQ

Saturday, May 17

8:30 AM to Noon
Noon - 4:00 PM

Thursday, June 19

4:30 PM

Wednesday, June 25

10:00- 6:00 PM

Wednesday, July 9

During Practice

Saturday, July 12

6:00 PM - 7:00 AM

Alumni Meet

Saturday, July 19

After Swim Meet

Thursday, July 24

6:00 - 9:00 PM

Friday, July 25

Time TBA

Post Champs BBQ dinner

Saturday, July 26

6:00 PM

Awards Dinner

Saturday, September 6

6:00 - 10:00 PM
~~~~~~~~~~~


PRACTICE MEET & HELLO BBQ

Hey, all you Penguins! The practice meet will be on Saturday, May 17th, followed by our annual Hello BBQ. The practice meet will start at 8:30 AM and will be run just like a regular dual meet. After the meet we'll launch right into the Hello BBQ. The team will supply all the hot charcoal, so just bring your own food to grill. This is a great time to visit with old friends and meet new members. Bring your swim suits! Don't miss it!
~~~~~~~~~~~



Our annual Raging Waters trip will be on Wednesday, June 25th., from 10:00 AM to 6:00 PM. Cost is $26.50 per person (3 and unders free). Price includes a full service BBQ lunch with sodas. Lunch is served from noon to 1:00 p.m. Sodas served from noon to 2:00 p.m. Tiki Gardens Picnic Area. Unlimited soda wristbands available for $3.95 ea. Parking at gate (~$10.00). Make checks payable to Southgate Swim Team and deliver to Joanna Houghtelling, Lisa Johnson or Crystal Brauns no later than Saturday, June 14th. Contact Lisa (lisa@southgatepenguins.org) or Joanna (joanna@southgatepenguins.org) or Crystal (crystal@southgatepenguins.org) for more information. [Raging Waters Signup Form PDF]
Raging Waters Park
2333 South White Road, San Jose, CA
(No glass, food, or coolers allowed in park)

Raging Waters Website
Map to Park
~~~~~~~~~~~~~~~~~~~~~~~~



~ TEAM PICTURES 2008 ~
Team picture day will be at Southgate, Thursday, June 19th, immediately before practice. Team, group and individual pictures will be taken by Pro Image photography. Picture envelopes will be distributed at our meet on Saturday, June 14th. See Lisa Johnson if you have questions.
~~~~~~~~~~~~~~~~~~~~~~~~~~~~~~~~~~~~~


Southgate Swim Team
Penguin Power Pot Luck and Overnight Party
Saturday, July 12, 2008
[Download Permission Slip (overnighter2008.pdf)]

Potluck:

6:30 PM to 8:00 PM

Overnight:

8:00 PM to 7:30 AM

Gates close at 11:00 PM for the night.
Pool open until midnight.

The team will provide plates, napkins, utensils, cups, punch and a hot grill.
YOU BRING:
Any meat, fish, chicken, etc. you want to grill.

EVERYONE BRING:
A - M salad for 12
N - Z dessert for 12

Be sure to bring:

sleeping bag/ground cloth
tent
snacks for the evening
games, videos
water rafts
skewers for roasting marshmallows

The NO NOs:

no alcoholic beverages
no squirt guns or water balloons
no tents in the area until after the pool closes at 8:00 PM
no glass containers

All parents are needed at 7:00 AM to supervise cleanup.
Juice and donuts will be provided AFTER cleanup!

This is a family event. Your participation is encouraged. If you are unable to stay with your child, you must designate an adult who is attending the sleep-over and has agreed to be available for your child. One adult may not be responsible for more then 5 children. Please do not bring guests.

EACH SWIMMER MUST HAVE A COMPLETED PERMISSION SLIP ON FILE.
PERMISSION SLIPS ARE AVAILABLE AT THE POOL.
PLEASE RETURN PERMISSION SLIPS TO COACHES BY WEDNESDAY, JULY 9th
[Download Permission Slip (overnighter2008.pdf)]

~~~~~~~~~~~~~~~~~~~~~~~~~~~~~~~~~~~~~



Thursday, July 24th, beginning at 6:00 PM
at the Swim Club.

Each family should bring a pasta dish
AND
last names beginning with:

A to M: Salad for 10
N to Z: Dessert for 10

Please bring your own utensils

If your family won the "Perpetual Toilet Seat" last year,
please return it to Paige Adza on or before Thursday.

Remember to turn in Swim-a-Thon money, whether you participated
or not. Funds must be turned in to be eligible to win raffle prizes.


~~~~~~~~~~~~~~~~~~~~~~~~~~~~~~~~~~~~~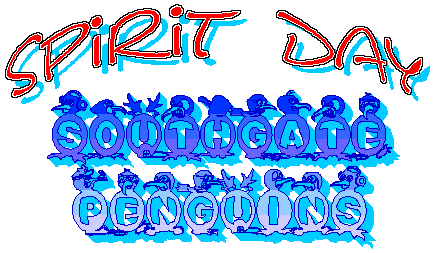 FRIDAY, JULY 25th
11 to 3:00 PM at the CLUB
Posters with SPIRIT SLOGANS
Blue & White Pompoms
Blue & White Hair Dying and Nail Polish
Head Wreaths
Spirit Banners
Tattoos (temporary)
Shave Down (with parent permission)
All Swimmers will want to attend this wacky, fun filled event!
~~~ We really are the "FUN TEAM" ~~~
Top

Home | Meets | Practice | News | Events | Meet Results & Top Times | Records | Pictures
Coaches Corner | Team Roster | "Fishes" List | Bulletin Board | Parent Agreement | "Champ 100" Policy | Swim-a-Thon | Make a Donation
Southgate Board | 2008 Signup Information | Team Handbook | Our Sponsors | Downloads | 2008 Awards | Links | Contact | EBSL