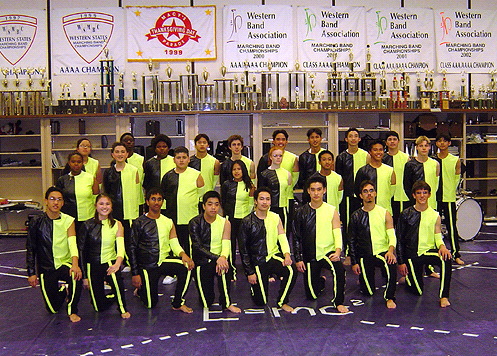 Congratulations
Logan Percussion!

In a very respectable showing, the James Logan Percussion Ensemble finished 8th in Scholastic World competition at the WGI World Percussion Championships in San Diego, CA. Hampered by high winds on Friday and rain on Saturday, making the transporting of props and equipment to the arena particularly difficult, the ensemble persevered and gave excellent performances of its show, "Innovations" in both preliminaries and finals competition. This is the first time since 1997 that the Logan Percussion ensemble has attended the world championships and it is quite an accomplishment just to have made it to the finals which included the top 12 finishers from the preliminary round. There were ensembles from all over the country performing a wide variety of shows. Logan's high energy show brought cheers from the audience, especially during the part of the show when the performers brought out "The Rack."
Congratulations to Mr. Oliver, Mr. Karlin, the percussion staff and all our ensemble performers on a great season!
For a complete run down of all the WGI Championship scores, see the Percussion Championship Scores on the WGI web site.