~ Congratulations Logan World Guard ~
2005 WGI Scholastic World Guard World Champions!!!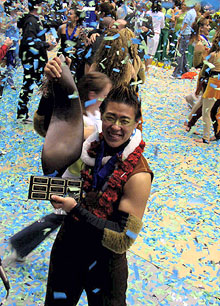 On Saturday, April 9th, the Logan World Guard rocked the color guard world once again by winning GOLD for the 8th consecutive year in Scholastic World Class competition at the Winter Guard International World Championships in Dayton, Ohio. Performing their show, "In The Cradle Of Odin," the World Guard scored an incredible 98.75 in finals competition, yet again capturing the title of WGI Scholastic World Guard World Champions. Congratulations to Scott Chandler, Dave Meikel, and the entire artistic staff for producing such a fantastic show and developing such a fine ensemble, and of course to our incredible World Guard performers who are truly in a class by themselves. You're the greatest!.
"It truly is an amazing achievement! I congratulate the Creative & Artistic Director, Scott Chandler, for once again producing a magical extravaganza that highlights our kids at their very best! Congratulations to the staff: Janelle Yuen, Adrian and Lindsey Bazua, and special thanks to Dave Meikel for making it all happen at such a high level!" -- Ramiro Barrera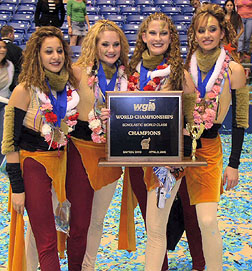 Hi,

The Logan World Guard competed in Dayton, OH for the national WGI championship last weekend. They won their 8th in a row, against strong competition.

In Friday's preliminary round, they did a good job but not their best. Still, they won based on their wonderful skills and creative program. On Saturday, at the Finals round, they were FEEEE-NOMM-INALLL!

Avon HS from Indiana did a show based on Madonna's greatest songs and they were highly entertaining. Then Beyer HS from Modesto did a wonderful presentation. I've seen them many times during they year and figured they would be Logan's competition.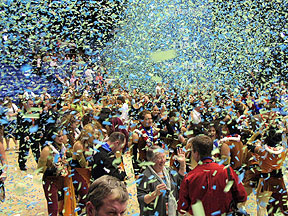 When Logan appeared, I knew they had to be "on". They were. At the conclusion of their program, they got the only spontaneous standing ovation in their competition round. The very large crowd of about 11,000 people cheered wildly when Logan finished.

I ran out back to see them outside the arena. The kids were overjoyed and highly emotional. All of their hard work came to its ultimate point on Saturday. Their score of 98.75 was an easy winner.

Beginning in 1998, the Logan World Guard has been undefeated. Their 8 in a row is unprecedented in the 28 year history of WGI. Believe me, I've seen all 28 years and find that Logan's work is unmatched, even if I subtract my slight bias at this time of the year.

Congratulations to them and their staff. Special thanks to House Four Secretary, Lori Valdes, for her truly unbelievable dedication to helping those kids.

George Oliviero
*** LOTS OF CHAMPIONSHIP PICTURES!!! ***
Also see WGI News for more Championships highlights.
For WGI VHS & DVDs check out the WGI Shop.


2005 Score Card
~ ~ ~
CCGC Championships Pics CSH Hayward 3/26/05 | Las Vegas Regional 3/18-20/05 Pictures
~ ~ ~
Las Vegas Video Clips by Mike Watts
Open Guard Clip (9.7MB) | World Guard Rehearsal Clip (9.9MB)
World Guard Performance Clip 1 (9.8MB) - Clip 2 (9.8MB) - Clip 3 (10MB)
~ ~ ~
Independence HS Pics 2/26/05 | Power Regional Pics 2/19/05
Amador Valley Pics 2/5/05 | WGI Hayward Regional Pics 2/12/05


The chief divinity of the Norse pantheon, Odin, ruled the ancient Viking world as the god of war, wisdom, poetry and death. The primal quest of ancient imagination soars in the 2005 James Logan World Guard ceremony for Odin. Tales and legends are summoned up by song and ushered onto land as the music of Bjork brings the ink of ancestral imprint into reality. Join the circle of sea to land, day to night, and man to myth as the world unfolds "In The Cradle Of Odin".

~ Logan World Guard 2005 ~