CUB SCOUT PACK 268 NEWS & INFO
8/31/08 | 8/18/08 | 10/18/08 | 10/19/08 | 10/22/08 | 10/28/08 | 11/2/08 | 11/14/08 | 12/7/08 | 12/10/08 | 12/20/08
1/1/09 | 1/22/09 | 1/23/09 | 5/21/09 | 6/8/09 | 7/13/09
8/9/09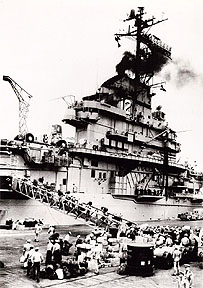 USS Hornet Trip, August 15-16, 2009
http://www.uss-hornet.org/groups/overnightscouts/
Hello Pack,
The time is near for our exciting overnight stay aboard the "Gray Ghost" so pack your things and gear up for an experience like those who served aboard her! For those of you who are going next weekend I have included some info and a map to get there (please read and printout).
"Now Hear This" Parents please go over the inclosed rules with the scouts. There will be no running aboard the ship. There will be no tolerance for running, a bump that might be of no consequence at home can result in a real injury aboard the ship! The ship is made of steel and the deck is painted with a mixture of paint and rough ground sand or something similar to create a non slip surface and does a real good job of removing skin from knees and palms. The door levers that can be found at every door are off limits they are referred to as "dogs" do not play with the door levers.
We will all meet on the pier (pier 3) right by the boarding ramps somewhere. We will meet at 4:00 pm sharp, at this time we will take a head count and go over changes. If you don't know where the hornet is and you will be using a map please plan extra time for the unexpected.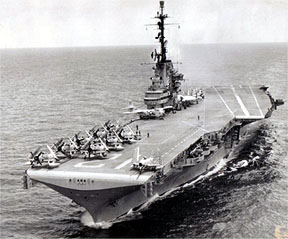 What to bring? I recommend packing light, a sleeping bag, pillow, tea shirt to sleep in and breath mints or gum, camera, bottle of water for the night, flashlight to find the bathroom at night, and a light jacket for the bay breeze when we walk from the flight deck to the flight control tower at 10:00 at night on our tour. If you can get all this in a day pack (school book bag or back pack) it would be ideal, that way all you carry is a rolled up sleeping bag under your arm the pack on your back and a free hand for your camera or the hand rail! Avoid bringing so much stuff you and your scout can't carry it aboard. We will be walking and carrying our gear up and down steep stairways called "Ladders" to our bunks where we will leave it behind. The next time you will be reunited with your gear you will be unpacking it at 11:00 pm to sleep in it! Don't bring anything valuable, and no electronic devices (see general info sheet). There is also a list of what to bring. Keep in mind at seven in the morning we will have fifteen minutes to roll up your sleeping bag and pack your gear and walk it up to the hanger deck and fall in for breakfast with a great sense of urgency. So if you require more time to prepare your self in the morning and want to fight the brush your teeth line at the sinks you need to get yourself up before then. This was a great surprise for me last year and I would like to prepare you for it. It is just like the military.
Prepare for fun one of a kind experience. Being able to walk around, explore and sleep overnight on an aircraft carrier is exciting, kind of like the first time you got to sleep overnight at a buddies house! From the moment we board to the moment we hit the racks (bed) to sleep we will be on the go touring the ship and having dinner. The whole experience is fast paced no time to sit and socialize.
There are pictures and a story on the pack website if you would like to look at them feel free (see below). See you at the pier!
Allen T. Cubmaster
---
5/12/09
USS Hornet Overnighter August 15, 2009, Sign-up Deadline June 5, 2009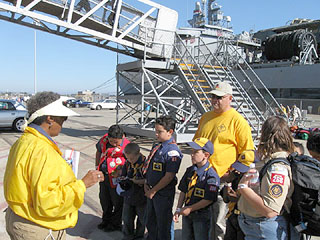 Hello Pack 268
I would like to remind everyone of the June 5th deadline to sign up for the USS Hornet Overnighter in August. If you are interested in going, I will need your commitment and payment to secure reservations aboard the ship As of our last den meeting, I have an easel set up with a display board that contains all the pertinent information regarding the trip, including photos. The display board will be available at all upcoming den and pack meetings so everyone will get a chance to look it over. You can also check out the photos of last summer's Hornet Overnighter posted on our website at www.cubpack268.org.
Here are the requirements: Participants must be 5 yrs or older. The cost is $60.00 per participants regardless of age. Only immediate family members are allowed to attend due to BSA insurance coverage. Siblings are OK if 5 yrs or older (also $60.00). One adult is required for every youth member age 9 and younger in accordance with the required 1:1 ratio. Otherwise, one adult is required for every six boys age 10 and older.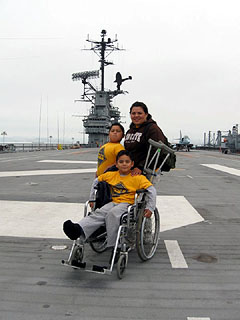 What to bring: A pillow, sleeping bag, extra blanket (in cold weather only), toiletries, hand towel, bottled water, flashlight, and jacket. Scouts and adult leaders should wear their class "A" uniform's. Also, if you have a particular diet you may bring your own food. (There is a sample menu posted on my display board.)
The arrangements: The group will meet on the pier at 4:00 PM Saturday, August 15th, in the former Alameda Naval Air Station where the USS Hornet is moored. Participants will carry all gear from the parking lot to the pier (200 yards max). From there we will wait for the Hornet crew to meet with us. Then we will board just as the Navy sailors do, carrying our own gear (pack light) up the gangplank then eventually two or three decks below the aircraft hanger. They will feed us dinner Saturday evening and breakfast Sunday morning. We will tour the ship Saturday after going over the rules and stowing our gear in our bunks. The adults will be assigned night watch in groups of two for one two-hour shift during the night. The next morning we will have an early wake-up call and will have to be out of bed and up three decks ready for inspection with all of our belongings lined up in the aircraft hanger within fifteen minutes time (breath mints might be better than toothpaste for lack of time!). Breakfast will be right after inspection, and since we are a Cub Scout Pack, our group will probably serve breakfast for the whole ship. The program ends at 9:30 AM, at which time you will be free to leave. However, you might want to stick around a little longer -- the flight simulator and ship store open at 10:00 AM.
That's the program in a nutshell. Keep in mind that the program is conducted in a fun-spirited, navel-organization manner. Falling in, stowing your gear, and following orders are all a part of the experience! Exploring a Navy aircraft carrier and sleeping overnight in the original bunks is something the average citizen wouldn't ordinarily get to do.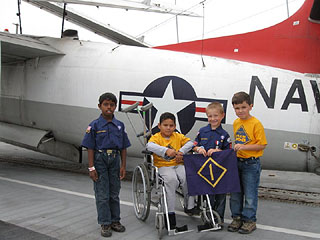 But we have the opportunity to do just that--not only on a magnificent and historic, steam-powered vessel that carried aircraft, nuclear weapons and Navy personnel all over the world, but also on the very ship that recovered the Apollo 11 and 12 astronauts when they returned from the moon in 1969 (the space capsules are displayed on board!). The ship also has nice views of the bay and surrounding areas, making for great photo opportunities. The view of San Francisco from the ship's fantail is particularly good, especially at nighttime.
I hope to see the whole pack attend this overnight experience. The Scouts will love it and remember it forever. Please see my display board for more info. Additional information will be passed along as we finalize the trip.
Important note to Webelos parents regarding the summer schedule: If you plan to have your Webelos scout attend Webelos Adventure Camp in August as well as the Hornet Overnighter, please choose the first session of Webelos camp (Aug 3 - 8) to avoid the schedule conflict with the Hornet trip and the second session of camp (Aug 10 - 15).
Thanks and stay tuned,
Allen T. Cubmaster Pack 268
7/13/09
Cub Cruise 7/18/09 - Map and Driving Directions PDF
Here are the driving directions for the cub cruise. Please remember to bring a sweat shirt or coat the mornings are cold on the bay. Also you may bring a snack and a bottle of water, the ordeal may last two hours. We will meet on the wharf in Redwood City at 7:30 and board at 8:00 am sharp! Refer to the Map and Driving Directions PDF for the details.
Look forward to seeing you all there Thanks.
Allen T.
---
5/28/09
2009 ''Cub Cruise'' Sign-Up Now!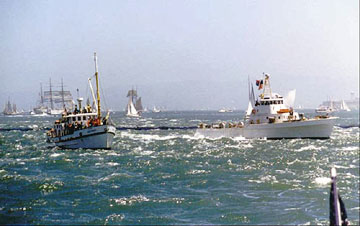 We now have the date! The 2009 Cub Cruise is scheduled for Saturday, July 18th at 8 AM, at the Port of Redwood City. I will need all sign-ups completed and monies collected by the close of our den meetings on Friday, June 5th. (This is also the cut off date for USS Hornet sign-ups.) Sign-up sheets will be located on one of the back tables in the multi-purpose room during tomorrow night's den meetings as well as the June 5th den meetings. On the Cub Cruise sign-up, be sure to indicate your lunch preference (reg hot dog or veg dog). Your payment--a check written to Pack 268, or cash in the exact amount--should be placed in an envelope marked with the names of the participants from your family and what it is for (ex: Hornet, Cub Cruise, Den Dues, etc.) and inserted through the slot in Pack ammo can" (till) located next to the sign-up sheet (envelope may need to be folded to fit in slot).
The cost of the Cub Cruise is $20.00 per person and includes the 45 minute ride to the San Mateo bridge and back, a Sea Scout activity patch, and lunch afterwards (regular or vegetarian hot dog and a water).
The activity is open to all of our Cub Scouts and their families. In the past, infants have been allowed, and the ship will have life vests available for all. It is suggested to bring a warm coat, snack, drink and camera. There will be plenty of free parking. Lunch will be served in the grassy area as we disembark the boat, so you may wish to bring a blanket to spread out to sit and eat on.
Please plan to arrive early, as the route to the pier can be confusing. Seaport Blvd becomes two independent roads parallel to each other and separated by a narrow median of shrubs at a point at or just after Seaport Ct where a stop light is located. You'll need to veer left to the business side of Seaport Blvd then to Henry A Beeger Rd. We will be parking in the open area in front of wharf #5 along the fence. (Wharf #5 is directly parallel to Sidney D Kerkner Rd.) From there we will walk up to the wharf and board the ship.
Last year's cruise (see photos at our Pack website) was aboard the SSS Challenger, formerly the Coast Guard cutter, ''Cape Jellison'', now operated by Sea Scout Ship 145 of Redwood City. (Sea Scouts are a special division of Boy Scouts of America, especially devoted to developing maritime skills.) The ship is 95 feet in length with a mass of 105 displacement tons It has an aluminum hull, and cruises at 20 knots or approximately 23 miles per hour. Prepare to explore the vessel when we cast off. The crew will lead tours of the engine room, wheel house and other areas while underway.
Please share this e-mail and our Pack website www.cubpack268.org with your Scout and encourage him to explore the website. This is a great way to become more familiar with the Pack as well as the computer and internet!
Thanks
Allen T.
Cubmaster Pack 268
=======================================================
6/8/09
Graduation Campout at Arroyo Flats Group Camp, Garin Park, Hayward, CA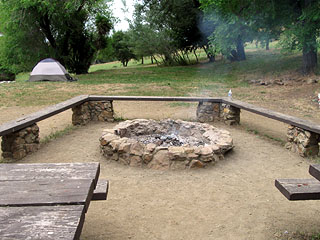 Here we are at the end of our program year and it seems the summer will be just as busy...which is great! Our Pack probably has one of the highest-quality summer programs of all! I have been with the Pack for two years now and have seen the changes. I have to say the Pack has changed dramatically since my first year. As I bump into other leaders at trainings and such. I am constantly told we have one of the largest Cub Scout packs in Union City. Personally I feel we have a small pack as compared to the past when Jay was Cubmaster and the Pack had over 50 Scouts! I think Scouting just isn't as popular now as it was in the past. I tell you this because you the parents and Scouts are what is bringing this Pack back to what it once was! It makes me feel great to see all of you pulling together and helping out and volunteering. I hope you sense the ownership of the Pack as I do. The quality in the Pack is its participants making it something it was not. So thank all of you for being a part it!
Back to the subject of camping! As you know we are camping at Arroyo Flats Group Camp at nearby Garin Park. This should be convenient for those who can t stay overnight. There was a map hand-out made available at this last Friday's den meeting. We will post it on the Pack website for those who still need one (see info packet PDF here). It also has a list of what to bring attached, which is a great tool to check off when packing. I use it all the time.
If you have not signed up with Jo Hendee, you need to do so soon, as we need the head-count for food shopping. There is also a $10.00 charge to help offset the cost of the campsite. If you wish, you may volunteer to purchase various items and be in charge of bringing them to camp (just contact Jo).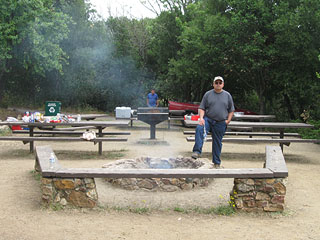 Each family will need to bring a tent. The Pack, unlike the Boy Scouts, has no tents in its inventory to loan out. It is always the family's responsibility to provide one. However, some of us may have extra tents to loan. You can check around with the Pack leaders and other families for one or you may purchase one from Big-5, Walmart, Sport Authority, etc. Don't get one bigger than you need. And for a good night of sleep, be sure to have a good pad to sleep on, a comfortable sleeping bag, a pillow, and an extra blanket. (You might even want to bring ear plugs in case of loud-snoring tent neighbors!)
We also distributed a revised grad camp hand-out outlining some changes that were made, which will also be posted on the website (see info packet PDF here). There will be no potluck lunch as previous planned...sorry! For those of you interested in hiking, we will have a hike that will start at 10:00 AM. Before or after the hike, the visitor center and blacksmith shop may be open for a tour. You may bring your fishing pole to fish with your Scout during our free time. Adults will need a fishing pass and license. Dinner will be served at 6:00 PM and the adults will be cooking. At 7:00 PM, the graduation ceremony and campfire program will begin. At this point, class "A" uniforms are required for all Scouts and registered adult leaders. After the ceremony and campfire program are complete, we will have a night hike and "Cracker Barrel" (fellowship time that includes a before-bedtime snack) where Wolf Den 1 (actually Bear Den 1 by then!) will share some fresh-baked dutch oven treats On the menu are "almost pumpkin pie", peach cobbler and a mystery cobbler. And of course we'll have all the fixins for S'mores, as well as hot and cold beverages.
In the morning I hope to see Webelos Den 4 cooking breakfast to take advantage of the opportunity to fulfill a requirements needed for the Arrow of Light. They can also fulfill another requirement towards Arrow of Light if they pitch the tent they will be sleeping in, on their own with minimal help from mom and dad, and sleep in it overnight.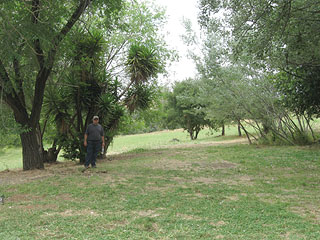 We will need all families to help out by monitoring their own Scouts in between the leader-run activities. We will have areas set up for them to run all they want but in camp there is no running, yelling or horseplay. This is important so the leaders can relax a little and not be constantly in charge.
This camp-out is one of the most exciting activities for the Scouts. The younger Scouts can explore and the older Scouts can learn about campfires, outdoor cooking, etc., and all will learn Scoutcraft. Being outdoors in the fresh air under the stars can't be beat. Fellowship, story-telling and perhaps some songs/skits at the campfire is what it's all about! (By the way, I'm looking for volunteers to tell a story or two during campfire.)
Finally, when you arrive at the park, you will need to park your vehicles in the loop to the left of the entrance, then walk to the campsite or call one of the leaders for the key to the gate. Once the gate is open, drive to the campsite, unload your gear, then bring your vehicle back to the lot before setting up camp. We are allowed to have only two vehicles unloading at the same time. Two leader's vehicles will occupy those two spots overnight, but we'll make them available again the morning when it's time to load up. I've attached a few pictures of our campsite to this email. Two show the fire pit and picnic tables, and the other shows where the tents will be set up.
Look forward to camping with you all!
Allen Tarnowski
Cub Scout Pack 268
=======================================================
5/21/09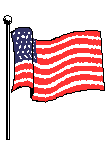 Cub Scouts Memorial Day Flag Placement on Saturday
Our pack will be participating in the placement of flags at the graves of our country's fallen service members this Saturday, May 23rd. This will be a joint venture with Boy Scout Troop 168 and Cub Scout Pack 815. These two groups have a connection just as we do with Troop 110.
We will meet at Chapel of the Chimes memorial park just past the Union City line at 32992 Mission Blvd in Hayward, 94544. Our contact is Allison Rodman (510) 471-3363. We will meet in the main parking lot (in the gate just past the building on the left) at 9:00 AM sharp. If you don't know the place or route plan to arrive early. After we gather, we will enter the main building at 9:00 AM with the other scout group to receive instructions and go over flag etiquette, etc. Danishes and other goodies will be served at this time. Once fed and properly oriented, we will walk in groups as the scouts poke holes in the ground at individual grave sites and insert the flags. We should be done by 12:30 PM.
Class "A" uniform is required.
This is a service project -- the scouts will receive an activity patch and be signed off for their service. This type of activity is what scouting is really about -- service to others, exploring the outdoors, and conservation! Depending on how this event goes, I am thinking of making it a regular yearly event. I like that it is local and we can make connections in our community. In the past the pack has participated with Troop 110 at the Golden Gate Cemetery in San Bruno. As Cubmaster, I feel we should try to remain local. If there is interest in continuing the San Bruno trip we can look at that. On a personal note, my family has hallowed ground at Chapel of the Chimes, and I served there as a Boy Scout in 1982, directing traffic and planting flags. For me it is more than volunteering my service to others -- it brings me closer to my family and allows me to fulfill two passions in my life at the same time.
Now for the adults and Boy Scouts only: There is an opportunity to assist the other Scout Troop. They had asked me if I could round up adult volunteers to help out with directing traffic in the park on Monday, May 25th from 10:30 AM to about 2:00 PM. They volunteered to do this, and have been doing so for 20 years, but this year fell short on help. If we have willing adults to help that would be great. Every adult should have a pack t-shirt at the least, and for our regular leaders the class ''A'' uniform is required.
Thank you and look forward to serving with you!
Allen Tarnowski
Cubmaster, Pack 268
=======================================================
1/23/09

Pack 268 Reminders

I would like to remind the pack we have a committee meeting coming up this Sunday. It will be at my house from 5-7:00 PM. This is what governs the pack in how it is run and what we do. All of the packs leaders and parents put together the upcoming pack meetings and events.

All of our pack parents are always welcome to attend and participate in the meeting. We welcome fresh Ideas, concerns and participate in guiding the pack. After all it is your pack also!! We strive to maintain the scouting values and ethics.

Once again if you are interested in what it takes to run a cub scout pack here is your chance to see.

The Blue and Gold banquet (potluck) in February will be held in lieu of the regular pack meeting (2/27/09 7-9:00 pm). This is a wonderful opportunity for our scout families to get together for a meal and an evening of fun and inspiration.

Dinner will be "potluck", so each family should bring a main dish to share (enough to serve 6-8 people). Scouts should be dressed in their class a uniforms. We look forward to everyone participation!

The University of Scouting is this Saturday 1/24/09 8am-4:30pm at the LDS church, 3551 Decoto Rd, Fremont. It is close this year less than a mile away! Last year it was in Pleasanton. Adult leaders may drop in and register that morning please take advantage of the great classes put on by other adult leaders like your selves! I'll be there registering at the last minute as usual see you there.

Stay tuned for more info after our committee meeting. Thank you and happy scouting!

Allen T.
Cubmaster pack 268
=======================================================
1/22/09

Cubmaster's Minutes For January

Hello all, I would like to thank everyone for the great turn out at the meetings and the pinewood derby. We had a great meeting led this month by the wolf den-1. It is great to see our scouts working hard and earning belt loops and activity pins. And once again congratulations to Marquise M on cub scouting's highest rank Arrow of light, and to our newest Bobcat rank recipients Antonio M, Nathan M, and Noah M.

The winner of our on time prize was Brandon T, the new owner of a Rubics revenge puzzle. Also I need clarify that there will not be a list with last initials for bringing items for the Blue and Gold. It will be a ''potluck'' and we ask each family to bring a main dish that serves 6-8 people to share. Everyone is welcome to bring in more than one dish if you would like. Reminder the Blue and Gold "potluck" will be held at Searles on 2-27-09 at 7:00 p.m. and all scouts to be in their class ''A'' uniform. This will be a great opportunity for our scouting families to get together for a meal and an evening of fun and inspiration.

I would like to take a minute to give a special thanks to Jo and Jay Hendee for organizing and running our pinewood derby race!! thanks guys.

And another big thanks to Jeana and Gary Spaulding for securing the hall which I think will be our annual derby hall, and organizing the event and photos thanks so much!!

I also would like to thank our assistant webelos den leader Danny W for working the starting line and our finish line crew Darren R, Tom F and John G. Thanks!!

All of our scouts did a great job building their cars lots of hours were spent on these cars and it shows. I am excited to see the outcome of the car voting at the Blue and Gold next month. This year the races were close and exciting!! Our finalists were #1 Stanley T #2 Antonio M and #3 Pierce V. GREAT JOB PACK 268 SCOUTS!! And to let you know, did everyone see the two beautiful cars John G built? He built one for any scout who may have lost a car due to it being destroyed during racing or just missing in action!! Thanks John and we need pictures of them also Please!!

Packs 263 and 174 from Alvarado area of Union City have asked us to borrow our track and challenged our finalists to an ultimate challenge. Their finalists against ours in March. Then in April the district will hold a race Saturday the 11th at 12:00 noon, place T.B.A.

Den meetings this Friday at 7:00 P.M., webelos at Searles, wolves at the Tarnowski's house. Bring your books and class a uniform. And to those who took photos please send them to our pack webmaster "Skip" at macbrass@aol.com and he is listed in the members area.

Thanks

Allen T.
Cubmaster 268
=======================================================
1/1/09

Pinewood Derby Workshop

Hope you all had a great X-mas holiday. Just reminding everyone the pinewood derby is fast approaching. Race day is the 17th which is two weeks away.We need to put weight in our cars preferably before we paint them to bring them to the 5 ounce limit. This is not mandatory but is necessary to be competitive with those who have built their cars to the 5 ounce limit.

I have plenty of small round lead ingots that a friend has donated to the pack for our use. The ingots have a little less lead content than fishing weights due to having tin and nickel in them. This is a common practice for building these cars and is safe as long as we bury the weights in the car bodies by drilling holes in the side of the car and installing the weights in the holes and puttying over with wood putty.

I have a scale that we will use to bring the cars close to the 5 once limit. We leave it a little short to compensate for paint and body work to be completed afterwords.

My garage will be open for those who would like to weight their cars. Friday Jan.2 from 6:00 to 8:00, Saturday and Sunday afternoon to early evening. Please call and let me know that you would like to come by (see Members area for contact info).

The process will take thirty minutes to complete and requires a day to dry before sanding and painting. The process involves a drill press, scale, installing the weights, weighing, applying wood filler to the open holes.

This will be the last opportunity I will be able to provide for weighting cars. Friday the 9th is our den meeting and that day will be reserved for wheel and axle work. Then Friday the 16th is our pack meeting where we will be conducting a normal pack meeting and 30 minutes will be set aside for checking in and impounding the derby cars for the next days race, so there will not be any opportunity's to work on cars at or after the pack meeting.

So have a great new years and look forward to seeing you all next year, Thanks.

Allen T. Cubmaster
Pinewood Derby Car Building Demonstrations

I would like to take a minute to point out the back cover of this months boys life magazine. It is a list of pine wood derby car building demonstration dates/time's held at Lowe's. It can also be found on the Inside cover of Scouting magazine. I point this out because I think some of us may not be aware of this event. There will only be one date available for us (Jan-13-7:00 pm) before our race but I think this would be a great opportunity for our cubs who will be building cars next year or the next few years. And keep in mind there might be another opportunity to race at the district level in the upcoming months. Last year my son and I built another car for this event because the rules allowed us to do so, for us It was a lot of fun and a great learning experience. The pinewood derby is only conducted at the cub scout level, so savor every minute that you can! [See Flyer PDF]

Allen T.Cubmaster & Pinewood Derby Nut.
=======================================================
12/20/08

A SPECIAL THANKS FROM JENNIFER

To all of the families that took time out of their weekend to sing for the residents at Alma Via, I thank you. After having a bad day at work, the singing for the seniors lifted my spirits. It puts into prospective that Christmas is not all about the rush of shopping or receiving gifts; but to put a smile on someones face that may not have expected it or to help someone out. In other words like the cub scouts say, do a good deed.

A special thanks to:

Jeanna and Gary - Thank you for helping with the music and cards, this year has been more chaotic than normal for me and I just seem to run out of steam sooner rather than later. I hope to return the favor to you guys one day.

Monica - Those bells went over great with the seniors. They really loved them. What a wonderful touch. Thanks for the generosity.

Vilma - For bringing the bells and extra hats. Again this year, what a wonderful touch.

Rebecca - Thank you for the treats for the boys. A nice reward to them for singing. It is appreciated.

If I have missed anyone I apologized I have baby brain (I forget a lot LOL)

We wish everyone a safe and happy holiday season and we will see you all at the parent meeting.

Jennifer
12/20/08

ALMA VIA CAROLING

Hello All

The caroling was a great success!! Everyone had fun and the residents of Alma Via really enjoyed the scouts caroling for them. I would like to thank our scouts for their great singing and wonderful attitude and above all their time in volunteering to give to the community. We need to remind them that doing a good turn should make them feel good about themselves. I will be working on logging in our time volunteering on the do a good turn website and learning more about it.

Here is a list of our scouts that were in attendance caroling at Alma Via Senior Center 33883 Alvarado Niles Rd. 12-19-08 Service project hours will be one hour for caroling and practice.

Stanley T, Quentin R, Marquise M, Geordan S, Ricardo P, Nathan M Noah M, Pierce V, Harshayu G, Hector C, Juan C

If your scout participated in this event and you do not see his name here please let me know.

And a special thanks to Jennifer, Jeana, Vilma, Rebeca and our parents for making it happen and helping make this memorable.

Allen T.
Cubmaster Pack 268
=======================================================
12/10/08

December Information

12/12/08 All Scouts will meet at Searles at 7 pm for Christmas Caroling practice and a pack picture. At 7:20 Den 1 will go to the Tarnowski's house for the remember of the Den 1 meeting and Den 4/5 will stay at Searles 7:20 to 8:00 designing cars.

12/17/08 Christmas party with T110

12/19/08 Christmas Caroling: 6:00 - 7:30 at Alma Via Senior Center, 33997 Alvarado-Niles Road, Union City, CA 94587. Velma Pichardo and Jennifer Rasmussen, leaders.

Please wear Class A uniform and any festive accesories, lights, santa hats, antlers, etc..that you have...

Den Meetings on Friday

All Scouts need to bring their pinewood derby car to the den meeting this Friday, 12-12-08 at 7:00pm. Everyone will meet at Searles at 7:00 pm for a pack picture and to practice our Christmas Carols. Please wear your "Class A" regular uniform. At 7:20 Den 1 (the Wolves) will go to Allen Tarnowski's house and Den 4 & 5 will stay at Searles. Everyone will design their cars, if you did not make it to the pack meeting, your car will be at the den meeting.

Christmas Party Wednesday, December 17

Hey everyone, Pack 268 has been invited to the Boy Scout Troop 110's Christmas party. It is on Wednesday, December 17, 2008 at 6:00 pm. The party location is at the regular troop meeting place, Contempo Clubhouse, next to Contempo Park, on Meteor Drive, Union City, CA 94587

The party is a potluck, and you should bring the following items depending on the first letter of your scout's last name:

A-L Main dish
M-R Dessert
S-Z Cups, plates, forks, utensils

There will be a gift exchange. The wrapped gift should be $5.00 to $10.00 in price. Some games and entertainment at the party will be as follows:

- secret Santa (must bring a wrapped gift $5-10)
- dress up contest (participants must bring fifteen items of clothes. The clothes must represent the Christmas holiday),
- Scoutmaster Snowman dress up
- decorating a troop Christmas tree (everyone is to bring one ornament. The tree will be raffled off. A raffle ticket costs $1)
- Christmas caroling (younger scouts will pick song for older scouts to sing).

Jo Hendee
=======================================================
12/7/08

ROUNDTABLE on Thursday 12/11 at 7:00 pm - AT A DIFFERENT LOCATION!

Roundtable this month will beat at City Beach which is a sports facility located at 4020 Technology Place in Fremont near REI. The phone number is 510-651-2500. Map to City Beach in Fremont

This month will be a holiday celebration and a celebration of the completion of rechartering! Don't forget to have at least one person from your unit attend Roundtable, and this month we welcome all of your Pack leaders and active parents to attend and join in on the celebration and take a tour of City Beach.

Bring your favorite dessert to share with the group. We will provide the drinks.

One of City Beach's main attractions is a series of climbing walls and training programs that are open to Cub Scout age boys. To preview what they offer, click on this hotlink, http://www.citybeach.com/sports/rockclub/youth

I hope to see you at Roundtable on Thursday night. Please bring your Pack leaders and active parents with you. Don't forget to bring your favorite dessert!!!

Steve Armstrong
Pack 268 Unit Commissioner
starmstr@comcast.net
=======================================================
11/14/08

Reminder for Scouting 4 Food

Just sending a friendly reminder to all our scouts, leaders, and parents, this Saturday, 15th, we (Troop 110 and Pack 268) will be completing the final phase for the Scouting 4 Food campaign This means we will be picking up donated nonperishable food items from residents in our zone for the needy this holiday season. We will meet at Searles Elementary School parking lot in Union City at 8:30AM and leave at 9AM sharp to pick up the donated food. The Tarnowskis' have graciously loaned us their driveway as the drop off point to sort and count the food. There will be maps for the drop off and pick up locations handed out at the parking lot as well as a sign-in sheet.

Scouts and leaders must wear their full scout uniforms, no MB sashes. Parents can wear the troop or pack tee shirts. This event requires mass amounts of help. Please be aware, Scouting for Food counts as community service, so for high school students needing service hours please bring your school forms filled out please. Scouts who need service hours for their rank will be recorded by me.

Also, as an additional incentive, we will have a contest. The contest involves guessing how many food items collected. All scouts and siblings who helped in collecting and or sorting food items are eligible to participate. (Except for the ones who helped with the counting.)

After we finish collecting food items and deliver them to the BSA drop off point, we will reconvene at Mountain Mikes in Hayward (off of Mission Blvd) for lunch and hand out prizes for the contest (1st, 2nd, and 3rd).

YIS,

John Gillen, SM, Troop 110 and ACM for Pack 268
=======================================================
11/2/08

Committee Meeting

It has been a long time since we have had a committee meeting and so here we are with our first meeting. It will be on Sunday, November 9th, at 5:00pm at my house (See Members area for my address). We will be having a once a month committee meeting from here on out.

Your new Committee Chair

Angela Tarnowski
=======================================================
10/28/08

Popcorn

Popcorn order forms need to be turned into me by Friday 10/31/08. If you wish to drop them off at my house this week, please feel free to give me a call or email and we will set up a date and time.

I hope all sells went well.

Thank you,

Jennifer Rasmussen (see Members area for contact info)
=======================================================
10/22/08

Cameron's Campout - October 25-26

Here is an info sheet on this weekend's campout at Cameron's in Half Moon Bay. This campout is being hosted by Boy Scout Troop 110. Reminder: We will still be doing Make a Difference Day on Saturday morning (see below).

Bruce Chan, Cubmaster
=======================================================
10/19/08

Location Change for Make A Difference Day, October 25th

I just received information from the Union City Public Works regarding our service for Make A Difference Day. We will be removing graffiti (Dry Creek) and therefore will need to wear clothes we do not care about getting damage. Please wear long pants, closed toed shoes ie boots or tennis shoes, bring gloves, hat, suntan lotion, and sunglasses. If you bring any garden tools or other tools, you will need put your name on them.

Please note, the meeting location has changed, the address is 11th street and Westgard Street in Union City. I had told you to meet at the Dry Creek Regional Park in Union City----please do not meet there---go instead to the address I just mentioned. I have attached a map and information for you to review. The service will begin at promptly 9 AM and end at 12 noon or sooner, depended how many volunteers participate. This does count for service hours for scouts and high school students.

FYI: The community service project will not interfere with the Cameron event happening later in the day. See you ALL on Saturday-

YIS,

John Gillen, ACM
=======================================================
10/18/08

Rocket Jamboree 08

Hello All,

I am a Little late getting this out but here it is. We all had a great time at this years jamboree, despite the paperwork issues, oops! (reminder to all when on a military base have current dated registration, insurance and your I.D. as this will save the long walk!) Anyway the scouts all had fun and thanks to our parents/recovery teams we managed to recover all our rockets except for Quentin and Ricardo's "Converter" rocket landing on a nearby roof. Danny probably could have caught it if his leg was not to sore! (Thanks Danny the scout shop did not have a purple heart, sorry!!) Gary S. took some incredible pictures which have been posted all ready, take a look (thanks Skip). We have Jamboree patches that will be handed out at Camorons in Half Moon Bay to the scouts and leaders who participated.

Again thanks to all our scouts, who displayed there sportsmanship and craftsmanship. Also a big thanks to the parents and adult leaders WHO really make it all happen for the scouts!!

Thanks again,

Allen T., Den-1 Leader
=======================================================
8/18/08

Rocket Jamboree

Just sending a reminder, on October 12th, there will the annual Rocket Jamboree held at Parks Camp in Dublin. (Same Location as Last year). I will need to send in a head count. I have two families interested and have not heard from the rest. For Webelos II, you may attend the boyscout version on the 11th but need to be a guest of a troop or boyscout (You can attend with Troop 110). FYI: I will be with Troop 110 on the 11th. I have attached a copy of the announcement explaining the cost and details of the event for your review. Thanks-

YIS,

John Gillen, Assitant Scoutmaster
=======================================================
8/31/08

Pack 268 Mark Your Calendars!!!!

I hope all of you had a great Summer. As always, the break was too short. With the schools opening for the new year, the pack will again join together and have fun. Which brings me to announcing some very exciting upcoming scouting opportunities. I have attached information regarding those activities for you to review and include in your calendar. I will highlight them below for your convenience:

1. First Round Table meeting is Thursday, September 11, 2008. This will be a very important meeting for Fall recruitment, popcorn, Scouting For Food, and training. Sign up for district and council activities.

2. Professional Bull Riding event on September 26th & 27th (Need a volunteer to conduct this)

3. Halloween Camporee at Rancho Los Mochos, October 17th - 19th, All boyscouts, Crews, and Webelos II (no Webelos I or younger)

4. Rocket Jamboree, at Parks Camp in Dublin, October 11th, Saturday (Boyscouts, Webelos II only) and 12th, Sunday, (Cubscouts only)

Heads up, the first pack meeting will be announced by our cubmaster, Bruce Chan soon. Also, please be aware the pack calendar will need to be constructed soon and ready for the Fall recruitment in October---we will need all parents and leaders available to help with this, please bring your child's school calendar. Besides the popcorn, another fundraiser such as the proposed garage sell will be needed. We will need two volunteers for coordinating the Fall Recruitment.

FYI: We have been granted the use of Searles' multipurpose room, all Fridays, from 6:30PM to 8:30PM.

I was told by Allen T, the pack has fulfilled the requirements for the Summertime Award and has submitted the application. If accepted, this will be the first time since 2004 the pack has won the award. Thanks, Allen, coordinating the Summer Activities!!! See you all soon-

Yours In Scouting,

John Gillen, Assistant Cubmaster